BIO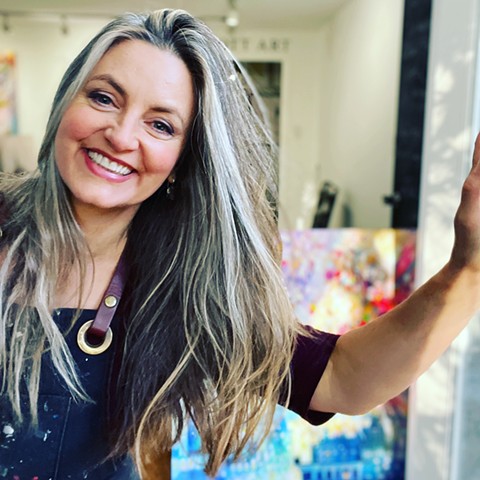 BIOGRAPHY
Blythe Scott was born in 1969 in Glasgow, Scotland. In 2012, she moved to Vancouver Island BC Canada where she currently works from her home studio as a full time mixed media artist.
Blythe was brought up in a highly artistic home by a father who studied Drawing and Painting and a mother who studied Textile Design. Being equally exposed to the worlds of Art and Design, Blythe has always felt a sense of belonging to both.
Immediately after high school, Blythe followed her parents' footsteps and attended the prestigious Glasgow School of Art. It was here that she developed a passion for drawing as well as experimental surfaces and colour. She graduated with a BA (Hons) degree in Design (dept EWT) in 1991. A few years later, she went on to achieve a post graduate with distinction in Art & Design Education from Strathclyde University where she had the opportunity to explore a far wider range of disciplines than before and it was then that she settled on painting as her enduring focus.
Being born with an intense sense of curiosity and wanderlust, she has travelled to and lived in various cities around the world and has worked as a decorative artist in Paris, gallery artist, gallery assistant and a passionate teacher of adults and children. All of these experiences have contributed to the development of her art and her understanding of the work of others. While a return to Europe is very much her future plan, Blythe has appreciated the opportunity to stretch all aspects of her practice that living in North America has offered.
Her diverse artistic journey has resulted in a highly individual approach to painting. Her expressive artworks are rooted in drawing while her love of experimental surface and technique as well as her ability to work closely with clients, are all supported by her background in Design. She uses mixed media, collage and metal leaf to create textured and colourful artworks which exude positivity, visual intrigue and a dreamlike quality. Her work is underpinned by rigorous drawing on a variety of scales, focusing mainly on romantic dreamscapes, quirky harbour towns and dramatic cityscapes.
Blythe has exhibited in numerous solo and group shows in since the early 90's in the UK, Canada and the States. She also sells paintings and commissions directly. Her work is to be found in private and corporate collections in North America, Asia, the UK, mainland Europe, Australia, New Zealand and Iceland.


CV / RESUME - if you have a professional interest in a full length and very detailed CV, please do not hesitate to enquire.
Please note, Blythe regrets that she can no longer teach or offer workshops in person or online as she is fully immersed in her full time painting career.