Blythe Scott is a mixed media artist from Scotland, currently living in Canada. She uses colour, texture and movement to express an uplifting view of the world.
Her diverse artistic journey has resulted in a highly individual approach to painting. Her expressive artworks are rooted in drawing while her love of experimental surface and technique as well as her ability to work closely with clients, are all supported by her background in Design. She uses mixed media, collage and metal leaf to create textured and colourful artworks which exude positivity, visual intrigue and a dreamlike quality. Her work is underpinned by rigorous drawing on a variety of scales, focusing mainly on romantic dreamscapes, quirky harbour towns and dramatic cityscapes.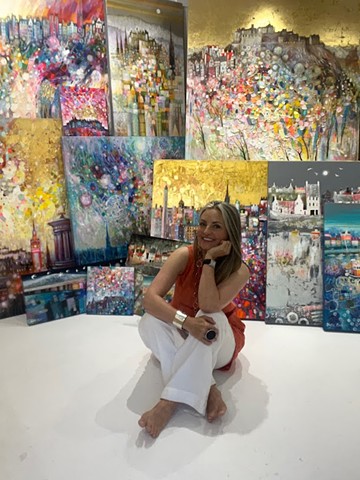 This website serves mainly as a portfolio of collections as the majority of the artworks are sold. Availability and purchase details may be found by clicking on each image. Updates about new releases are made via the 'Private List' (sign up in menu) and social media.
Do not hesitate to message me if you would like further details.