SOLD
This dramatic vista was inspired by the majestic city of Edinburgh and is the feature painting of the solo show by the same name at Morningside Gallery Ltd.
While many landmarks are recognisable within the composition, the majority of this painting is in fact, abstract in nature. Architectural forms are bought in and out of focus and melt into rhythms of pattern. The diffused lights of Princes Street drip into a silver leaf road giving the impression that we have slipped into dreamlike state. The strong dusk skyline is highlighted by a burnished silver while the city is described in a range of soft blues and pastels and contrastingly bright accents.
In keeping with the theme of the show, this painting invites the viewer closer to find layers of collage, thick impasto paint as well as random, and not so random typography.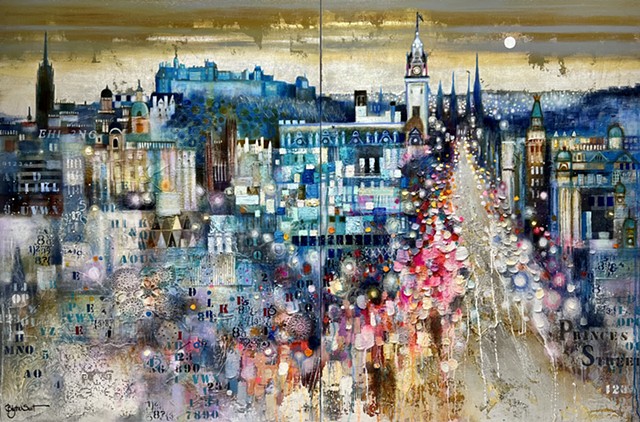 🔴'COME A LITTLE CLOSER' (diptych) Sold
Mixed media with collage and silver leaf on two linen canvases
48" x 72" / 122 x 183cm
SOLD
This painting has been created in a diptych format with two 48" x 36" linen canvases. These may be displayed with a one to two inch gap between them or if preferred, butted together. They may also be framed separately or together.